Sales, Calibration, and Repair of Svantek Sound, Noise, and Vibration Meters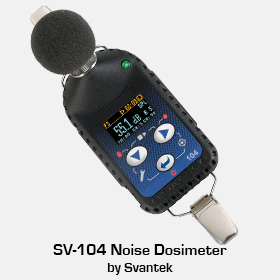 We're proud to offer the Svantek line of high-precision sound, noise, and vibration measuring devices. We provide nationwide calibration and repair services as well as regional sales of Svantek.
Sound-Level Meters
Octave Band Analyzers
Noise Dosimeters
Vibration Measurement Devices

We're a factory-supported testing, repair and calibration lab with quick turnaround and unsurpassed customer service.
We're particularly excited to offer the SV-104 noise dosimeter, which received the North American New Product of the Year award from OH&S. It's extremely compact and loaded with features including a revolutionary and virtually indestructible MEMS microphone and a built-in tri-axial accelerometer for vibration shock detection.
The full list of SV-104 features includes
Small, compact style dosimeter
Easy and friendly user interface
Shock-resistant MEMS microphone
Built-in tri-axial accelerometer for vibration shock (knocking) detection
High-contrast color OLED display
Single measurement range
Option for octave real-time analysis
Option for audio events recording
Voice tagging
Automatic calibration start
Three virtual measurement profiles
Operational time > 40 hours
USB 2.0 interface
Rechargeable battery
To learn more about the Svantek line or our support services, please call us at 1-800-634-4327, or click here to contact us via our online form.